Baby practice weaning: Should eat with processed flour or mother cook it?
When your baby starts to practice solids, it's time to think about which foods to choose are good for your baby. Currently, there are many types of processed snack powders on the market, including organic baby foods. However, many mothers still try to cook food for their babies by themselves to make sure they know the nutrients that are provided for their babies.
Starting at 4–6 months of age, most babies are ready to eat a supplement in addition to breastfeeding. Children will stop pushing food out of their mouths with their tongue and instead begin coordinating mouth movements to move food into the throat and swallow. However, the baby's stomach and general digestive tract are still very weak, so parents need to be careful in choosing food for their baby.
At the time the baby learns to wean, the amount of food they eat each meal is usually very small, sometimes only eating 1 teaspoon of flour. Therefore, many mothers often use processed weaning flour when there is not much time to prepare food.
Use processed powder for baby weaning practice
In the early stages when babies can begin to eat soft, slightly thick foods in addition to breastfeeding, many mothers choose to use processed baby food powder for their babies. Currently, on the market there are many types of instant powders with formulas that have been researched to suit the child's digestive system. These powders are also very diverse in ingredients for mothers to choose from and change for the baby.
The process of mixing powder for children is also simple, so mothers will save less time to handle other tasks. However, preparing and cooking baby foods from fresh and delicious foods will still help your child get more excited about eating. Diversification of foods helps to provide adequate nutrients and for children to learn more foods.
Benefits of preparing food for your baby to practice solids
In the beginning, you should make baby formula with a single ingredient before starting to combine many different ingredients. This makes it easier to spot foods that may be causing your child's allergies . You can start with ingredients like vegetables, pureed fruit, legumes, and yogurt.
The practical benefits that you can get when choosing food and cooking for your kids are:
Know exactly what foods your child eats
You can save more money than buying nutritious instant porridge or instant products from the store
Manually choose fruits, vegetables or fresh foods for babies instead of just eating certain vegetables in instant porridge or flour.
Practice the habit of eating the same foods as family meals
The process of weaning with your baby is definitely not easy, especially when you want to give your baby the best. Many mothers gave up on cooking flour, porridge for their children to eat by themselves or alternating with instant flour because they did not have much time or had difficulty in preserving ingredients. Regardless of the method, you need to balance enough additional nutrients for your child during this period.
Choose foods for your baby to practice weaning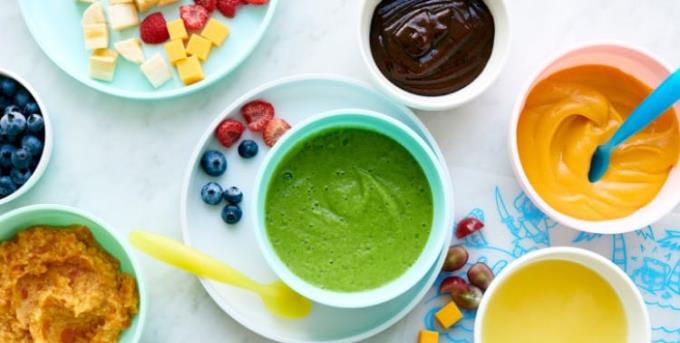 In the early stage of weaning, you need to provide foods rich in iron and zinc for your baby. In fact, from 6 months onwards, the baby's iron stores decrease and the iron in breast milk is very low. According to research in the American Journal of Clinical Nutrition in 2007, from 9–10 months of age, 90% of the iron and zinc absorbed by babies come from snacks.
Foods you can make early stage weaning powders include:
Vegetables are not too sweet, such as broccoli, cauliflower, spinach , kale, carrots, zucchini ...
Some familiar fruits such as banana, strawberry, pineapple (pineapple), apple, orange, mango, peach ...
Starchy foods include potatoes, rice, porridge, cereals ...
Foods that provide protein and essential nutrients (such as iron, zinc ) include chicken, beef, pork, fish, beans ...
When cooking, you need to wash the ingredients, cook them and puree them into a slightly thick powder. Remember, babies do not need extra salt and sugar, so you do not need to add seasoning when offering solids. Food that is too salty is not good for the kidneys and sugar has the potential to cause tooth decay.
Some notes when starting to practice solids
In addition, some common allergenic foods are:
Egg
Fish
Shellfish
Soy bean
Gluten-free foods like wheat, barley ...
Peanut
When starting to feed the baby with a new food, mothers need to pay attention to observe and monitor if allergy manifestations appear or not to promptly intervene.
The American Academy of Pediatrics recommends that mothers only solids when babies are at least 4 to 6 months old. Although it is possible to introduce solids earlier, it is recommended that you do not feed your baby under 3 months of age with high nitrate vegetables such as carrots, green beans or spinach, ...
Tell me some tips for cooking flour, porridge to eat for children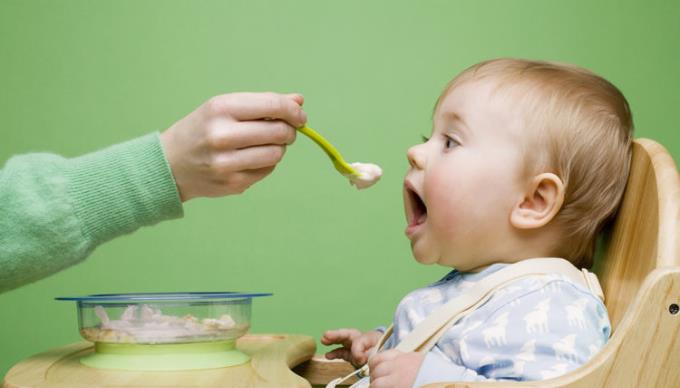 Cooking for your baby has many practical benefits, but there are also some disadvantages to moms, so some of the tips below will save you time and prepare your baby for a simple but full meal. enough nutrients:
Food should not have a temperature higher than body temperature.
Be careful when using the microwave to heat food. Food may not be heated evenly in the microwave, leading to higher temperatures in some areas than others. Therefore, your baby may burn if they eat hot food. To avoid the above situation, mix well after microwave oven food and wait a few minutes before feeding.
Take only as much food as your baby needs and throw away any leftovers. Saliva mixed in old food creates a favorable environment for bacteria to grow, easily leading to rancidity.
Do not give foods high in sugar, especially honey. These foods can put children at risk of poisoning and easily lead to death.
Preparing food for your baby is not too difficult, but not easy, especially for busy mothers. However, if you know how to manage, arrange time and persevere in making a snack menu , you will ensure the quality of the meals, helping your baby to develop healthy and happy.