When should children eat seafood to avoid allergies?
Seafood is a food that provides many nutrients for a child's development. However, you cannot arbitrarily feed your baby seafood, but you need to find out when to feed your baby seafood so that he or she is not allergic.
Do you have a child entering the age to eat, so you are wondering what to feed your child to eat? One of the foods you can feed your baby is seafood, which is essential for the child's physical development due to its high calcium content. However, when should children eat seafood so they don't have allergies? Let's find out through the following article.
When can children eat seafood?
Seafood allergy is considered a serious problem for young children. Therefore, it is extremely important to know when children can eat seafood. Family history, especially diseases such as asthma and allergies, are considered important factors in deciding when to feed a child with seafood . Once you know that your child can start eating seafood, you can now think about how to prepare delicious foods for your baby.
Doctors recommend waiting until your 9-month-old baby to start feeding your baby fish, such as salmon. For 12-month-old babies, you can start to feed them with giant tiger shrimp. This is also the time when a child's immune system needs to be developed enough to reduce the risk of an allergic reaction. If your child has a family history of severe allergies, food allergies or asthma, eczema or seasonal allergies, your doctor will recommend that you wait until the age of 3 to start feeding your baby. this food. While you wait until your baby can eat shrimp, crabs, cockles…, you can feed your child fruits, vegetables, pork and poultry.
How to introduce seafood to children
1. Introduce each type of seafood to children
First, offer hypoallergenic seafood such as shrimp or crab. Do not let your child hold the shrimp by himself until he or she can feed by hand without any problem. However, fish is always the best choice for children at this time.
2. Do not let children eat unprocessed seafood
Children should not eat unprocessed seafood or raw fish such as sushi and seafood salad. Raw or unprocessed foods can contain many bacteria and viruses that affect children's health.
3. Wait at least 3 days for your baby to eat another seafood
After feeding your baby seafood, wait at least 3 days to see if your child has an allergic reaction and then offer another seafood.
4. Watch for signs of an allergy
New foods including seafood can be absorbed at any time. Therefore, if your child has signs of an allergic reaction such as diarrhea, vomiting, stomach pain, wheezing, skin rash, swelling of the face, lips, and tongue, seek immediate medical attention.
What to do when a child has a seafood allergy?
1. What is a seafood allergy?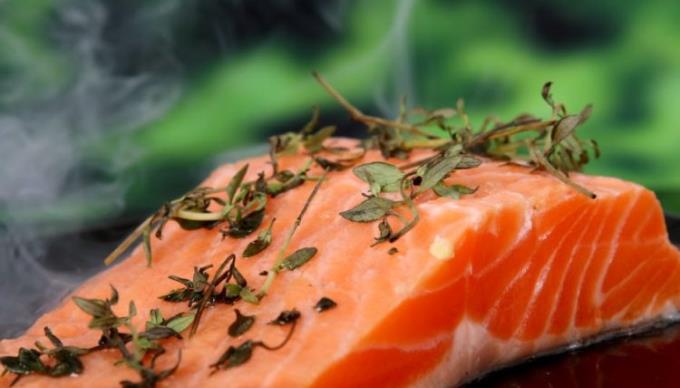 Although fish are also considered seafood, fish allergies are different from seafood allergies because they are biologically different. It's important to be aware of the difference as a seafood allergy can also eat fish.
There are 2 types of seafood allergy: crustacean allergy (shrimp, crab ...) and molluscs (scallops, sea clams, clams). Seafood allergy can develop at any age. Anyone can have a seafood allergy even if someone has not had a previous seafood allergy. Although some people may go away with a seafood allergy on their own after a while, this is very rare. If your child has a severe seafood allergy, you can take them to the hospital for testing and counseling on how to live with the disease.
2. What happens when a child has a seafood allergy?
In the case of a seafood allergy, the immune system will overreact to the protein in the seafood. Excessive histamine release can lead to symptoms such as decreased blood pressure, swelling, redness, itchy eyes, swelling, watery discharge, diarrhea, sore throat, hoarseness, cough, difficulty breathing, and wheezing. .
Your child may have different allergic reactions depending on the type of seafood they eat. Occasionally, the symptoms your baby had during this time were mild, but worse in other times.
3. What can be done to prevent recurrence of seafood allergy symptoms?
Read food labels before eating foods: Be sure to carefully read the labels on food packages to make sure the food doesn't contain seafood. Shrimp and crab are the seafood that appear on the list of top allergens, followed by oysters and snails.
Avoid seafood that has ever suspected an allergy: For seafood that has been suspected of causing allergies, you should not give that seafood to your child. Look for alternative foods that can provide all the nutrients for your child.
Please see the article on the top 8 foods that can cause allergies in children to avoid feeding them these foods.