What do fetuses learn while still in the womb?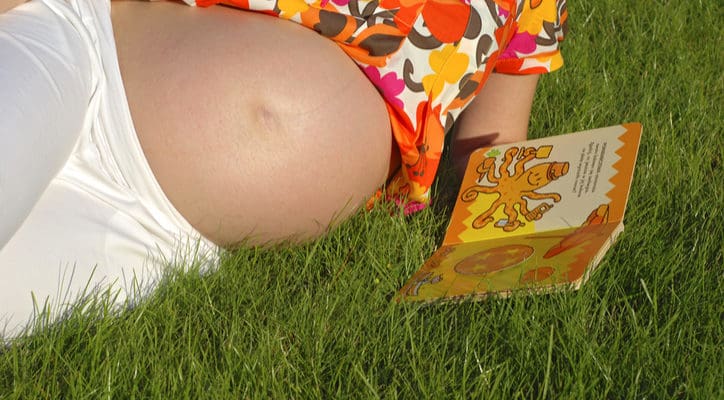 What do fetuses learn while in the womb? Experts believe that unborn babies in the womb can recognize sounds, voices and smells. Please refer to the following article for more details!
Parents always want to develop their child's intelligence as soon as possible even when the baby is still in the womb. aFamilyToday Health invites you to refer to the article below to learn how to interact with your baby as well as how to help children learn while still in the womb.
Can my baby learn from the womb?
The womb is a good environment for the development of the fetus . From about 10 weeks, babies have begun to stretch their tiny limbs.
At 23 weeks of age, your baby will be able to hear your voice and various sounds, even responding to what she hears by moving her arms and legs. Your baby can also sense the taste of the food you eat and react when you touch your belly. These are experiences that babies prepare themselves before being born.
It is completely possible to help your baby develop his natural cognition by interacting with him, this includes singing and talking with him. According to some studies, by reading stories, listening to music or talking to your baby, you can let your baby experience a simple form of learning while still in the womb.
However, some experts believe that we cannot rule out the possibility that learning occurs only after birth, not before birth. Also, even if you can teach your baby while your baby is in the womb, there is little evidence to prove that this has long-term benefits.
What can my baby learn while still in the womb?
Experts believe that the fetus can remember certain sounds and smells when the baby is born.
By the end of the second trimester , the fetus begins to be audible. While your baby's main sounds are heartbeat, breathing, your voice, the sound of blood pumping in the mother's body and the sounds of the digestive system, your baby can also hear noises from outside the body. Although listening to Mozart's music every day even from the womb cannot make the baby a musical prodigy, but the baby can recognize and react to it when hearing it again at the time of birth.
There is no evidence that letting your baby listen to classical music will make him smarter. However, listening to music is a great way for both you and your baby to relax. So you and your baby can enjoy the music together.
When you play music to your baby, your baby's heart rate increases and she can move more. Immediately after birth, babies can react to familiar music that babies often listen to while still in the womb.
Likewise, the baby will remember and feel comfortable with other sounds heard in the womb. This could be the theme tune of your favorite TV show or a story you would normally read aloud to your baby. They may also like your voice over someone else's and tend to pay more attention when you speak.
One study found that if a certain type of music relaxes a mother, it can have a similar effect on her baby. Your baby will stop crying, open his eyes and wiggle when listening to that music. So it seems that babies are connecting their womb experiences with whatever the mother is feeling at the time.
Babies not only remember sounds they hear while still in the womb. What you eat during pregnancy also affects the taste of your amniotic fluid and it is thought that your baby remembers the taste of the food you enjoy.
Some experts believe that familiarity with this flavor can help your baby get used to breastfeeding, as your diet also affects the taste of breast milk. Your baby may even like foods with these familiar flavors during weaning.
One study found that infants born to mothers who drank a lot of carrot juice during the last 3 months of pregnancy preferred to eat carrot flavored cereals over tasteless grains. Therefore, a varied diet is important when you are pregnant, as it can help your baby enjoy a variety of foods.
Hope this article has provided you with lots of useful information.