The secret to properly mixing baby formula
aFamilyToday Health shares knowledge about baby formula, including the amount of milk needed, how to prepare formula and other notes for you to give your baby the best care.
One of the difficulties faced by first-time parents is making formula for their children. Now, aFamilyToday Health will help you learn everything from preparing powdered formula, the amount of milk to be mixed, to how to prepare baby's milk.
Prepare tools for making formula
To prepare baby formula, please prepare the following:
Powdered milk;
Clean water;
Bottle;
Nipple;
Disinfection equipment and chemicals for disinfection.
Disinfection including rinsing thoroughly and killing all germs in baby feeding devices until 12 months of age is a very important step. First, please wash all equipment in warm, soapy water. Then use a scrub bottle to scrub all the remaining traces of milk before rinsing and disinfecting. You can use various disinfection methods, such as boiling, chemical, microwave steam or steam.
Always remember:
Steam can cause serious skin burns, so be careful when boiling or steaming appliances.
Keep all devices out of the reach of children.
Avoid unnecessary handling on the sterilizer and do not touch the inner surface of the bottle or teat.
How to prepare baby formula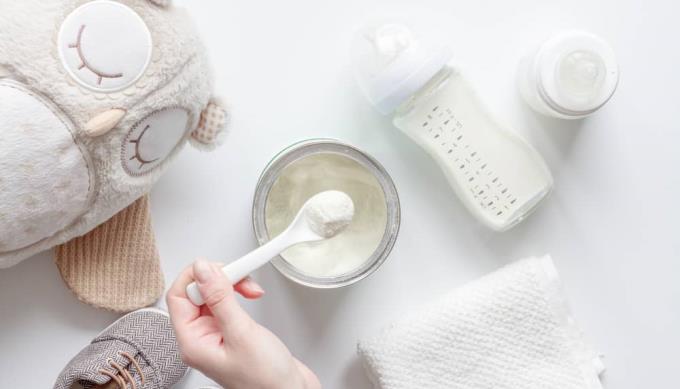 To make the correct formula, you always need to:
Wash hands thoroughly and make sure the preparation area is clean.
Check the expiry date on the bottom of the bottle or on the package to make sure the formula is not an overdue milk.
Complete the formula within one month of opening the tin. After a month, discard milk whether it remains or not.
Follow the manufacturer's instructions strictly. Ensuring the accuracy of the amount of milk when preparing is very important to fully provide the most important nutrients for the baby .
Boil clean water in a kettle or pot.
Do not leave boiling water at room temperature for longer than 30 minutes before preparing infant formula because hot water kills bacteria (germs) hidden in formula.
Fill the bottle with the required amount of hot water.
Note use the scoop provided with the milk carton to accurately measure the amount of milk. A scoop of milk can be larger or smaller depending on the brand of milk. Never measure half a spoon as it can be inaccurate. Instead fill the spoon's volume and then discard the excess milk.
Stir the formula well with a sterile spatula or knife (be careful not to compress the formula). Then pour the powdered milk into a bottle of boiling water.
Close the bottle and shake until well mixed.
Note, you should only mix one bottle at a time for your baby to drink because germs can easily grow in milk that has been prepared and stored for a long time.
Never warm bottles in the microwave. This is unsafe because doing so will not be able to heat the bottle evenly and the 'hot spot' in the bottle can burn your baby's mouth.
You can warm the bottle by dropping it in a pot of hot (not boiling) water for 10 minutes.
Test the temperature by dropping a little milk on your wrist and feeling the temperature with your skin. If the milk is too hot, cool the bottle under cool running water or soak the bottle in a container with cool water. Remember to check the milk temperature with your wrist before giving it to your baby.
If you have to go out all day, carry hot water in a hot water bottle and formula, then prepare it before your baby needs it.
When the carton is empty, throw the scoop away with the carton.
Read the instructions carefully if you change brands of formula to make sure you are mixing the correct amount of water and milk.
The amount of formula baby should drink
Between five days and three months of age, your baby will need about 150 ml of formula per kg of body weight per day. For example, a 3 kg baby will need 450 ml of infant formula per day.
Between three and six months of age, your baby will need 120 milliliters of milk per kilogram of body weight per day. From June to December, your baby will need between 90 and 120 milliliters of milk per kilogram of body weight per day.
A premature baby needs to drink more milk. In the beginning, your baby needs about 160-180 ml of milk per kg of body weight per day.
Take your baby to the doctor if you are concerned your baby has eating problems or growth and development problems.
Other things you need to pay attention to when preparing baby formula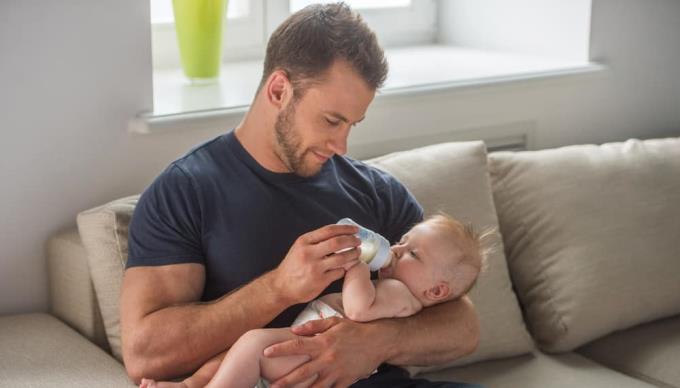 1. Do not use leftover milk
Use a new bottle every time your baby drinks milk and be careful to throw away all leftover milk after each drink. Never give leftover milk to your baby because it can contain bacteria (germs) and can make your baby more susceptible to illness.
Do not add other foods such as baby cereals to milk. If you think your baby needs more food than usual, consult your doctor before deciding to mix other foods into milk.
2. Stay with your baby when he eats
Meals are a time for you and your baby to be together and talk. Keep your baby close, right across from you when you feed your baby. This will be a fun and enjoyable experience for you and your baby.
3. Please take out the bottle as soon as the baby is full
Don't put your baby in bed with a bottle of milk and let him drink by himself. This is very dangerous because the baby can choke. Also, older children who are regularly fed this way are more likely to develop otitis media and tooth decay.
If you are breastfeeding your baby, do not skip the article Revealing the correct way to preserve breast milk to ensure your baby's milk supply .