Tell mom how to supplement iron for children
What role does iron play in children?
Children 1 to 3 years old need an average of 6.9 mg of iron per day to keep their blood cells healthy. Iron is an important part of hemoglobin. Hemoglobin is found in red blood cells and helps to transport oxygen to the baby's organs.
What should mothers feed their babies to supplement iron?
Every day, mothers should feed babies at least one of the following foods:
Fortified eggs, bread, cereals;
Lean red meats like beef or pork and poultry;
Dark green vegetables like broccoli and watercress. Beans such as lentils and soybeans. Dried fruits such as apricots, figs, grapes and prunes;
Liver or liver pate. You should only feed your baby liver or liver products once a week because the liver is very high in vitamin A ;
Nuts such as peanuts (peanuts), almonds. You should not let your baby eat whole nuts because it will risk the airway foreign bodies. Instead, you can crush or chop them to make it easier for your baby to eat;
Oily fish such as sardines, mackerel, salmon and fresh tuna. These fish are also great for brain development of young children. You should feed your baby fish 1-2 times a week. Do not feed your baby too often because this fish contains a small amount of toxins that can build up in your baby's body over time.
Your child's iron intake will only be effective if his or her body can absorb it. You can help your baby by offering foods containing vitamin C at the same time iron-rich foods. Good sources of vitamin C include fruits such as oranges, strawberries, and kiwifruit. Vitamins are also found in tomatoes and bell peppers. Dark green vegetables like broccoli, kale and spinach or potatoes and sweet potatoes also contain vitamin C which is essential for your baby.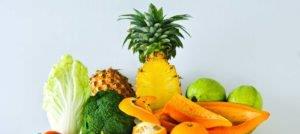 If your baby doesn't eat a lot of meat, offer plenty of vitamin C foods . This is because iron from plant sources is not as easily absorbed by the body as iron from animal sources. Therefore, the addition of more vitamin C will help your baby absorb more iron.
Children are picky eaters is normal, so do not worry too much if your baby will eat a lot of iron foods sometimes not. Too much iron will harm your baby, so it is not necessary to give your baby iron supplements or formula if you are feeding your baby a varied and healthy diet.
What will the baby be like if there is a lack of iron?
Without enough iron, your child will probably develop anemia . Mild anemia usually has no symptoms at all. However, if you see your baby looking exhausted and listless, his baby's skin is pale, he has difficulty breathing when he moves, and he is susceptible to infection, he or she is iron deficient.
To find out if your baby has iron deficiency or not, you can take your baby for a blood test to know the exact results.
The best way to make sure your baby gets the iron they need is to include a variety of iron-rich foods in their diet. At the same time, add vitamin C so that your baby can absorb iron better.