Opposing challenge disorder in children
Have you heard of Oppositional Defiant Disorder (ODD) in children? This is a fairly common psychological disease, but not everyone knows how to take their children for medical examination and treatment.
Children are often annoyed, or argue with the things their parents make. However, if the child is always angry, arguing, struggling, messing with their parents or those who show authority over them, the child is more likely to have a psychological condition known as defiant challenge disorder. (ODD).
What is defiant challenge disorder?
Anti-challenge disorder in children is a recurrence of types of behavior that is uncooperative, stubborn, disobedient, and anti-adult, in power. If the actions only take place for a short time then there is no problem. However, if this becomes a habit of the baby, it will affect the formation of the baby's personality in the future.
Opposing challenge disorders include behavioral disorders and attention deficit hyperactivity disorder . If left untreated, it can lead to serious behavior disorders such as aggression, violence, and possibly a violation of the law.
Not only is this a problem in young children, but it can also happen in teenagers. According to statistics, about 1/16 children suffer from this disorder.
The cause to the illness
The cause of this disease is not yet clear, but factors contribute to biology, psychology and living environment. Neurotransmitter problems in children also lead to challenging disorders as well as other mental illness. Children living in families with a mentally ill person are more likely to develop mental illness, although doctors have yet to explain the link. Environmental factors also play an important role in the progression of antagonistic disorder in children, including:
Have poor parenting skills (inadequate supervision, extreme discipline or inappropriate discipline or refusal)
Marriage conflict
Physical abuse
Sexual abuse
Neglect
Poor
Substance abuse by parents or caregivers
Most babies practice opposing behaviors as a way to protect themselves. Babies with this disorder often do not know how to overcome the anxiety they are facing.
Symptoms of oppositional defiant disorder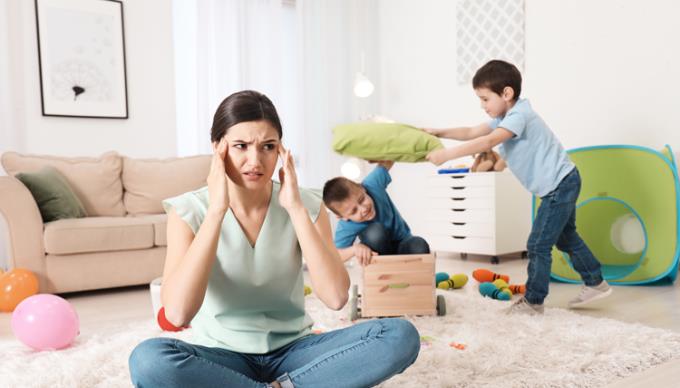 ODD symptoms usually appear before the baby is 8 years old. However, it is difficult to determine if a baby has ODD because these symptoms are easily confused with a baby with too strong personality. Here are 5 symptoms that mothers should pay attention to.
Frequent anger: babies are always angry and lose their temper.
Excitement: Babies with ODD are very sensitive and often feel uncomfortable or affected by others.
Stubborn: intentionally disregarding or refusing to comply, obeying the rules or requirements set forth by adults.
Quarrel: often quarreling adults, especially those who have authority over the baby such as parents, guardians or teachers.
Deliberately disrespecting the rules, always asking the question: "Why is that so?".
Often blamed others for your wrongdoings.
Hate someone / something at least twice in the last 6 months.
Opposition challenge disorder can vary depending on its severity:
Low. Symptoms occur within a limited range, such as when at home, at school, at work or with friends;
Average level. Symptoms occurred in at least two environments or more;
Severity. Symptoms occur in three or more settings.
If left untreated, a challenge-to-challenge disorder can lead to serious behavioral disorders. Symptoms of a behavior disorder include:
Cruel and cruel behavior towards animals and humans
Sexual or physical abuse of another person
There are illegal acts such as intentionally burning, vandalizing or stealing
Your child may experience other symptoms not mentioned. If you have any questions about the symptoms, consult your doctor.
When should I take my baby to the doctor?
ODD symptoms are confusing. Besides, when there are these behaviors, children think it is normal, so they will not recognize their own problems but only blame others. No matter how your baby feels, you should still take your baby to a psychiatrist when he or she has the above symptoms.
Diagnostic
To diagnose counter-challenging disorder, your doctor will ask you to provide information about your baby's past illnesses and recent behavior. You need to provide your doctor with specific information such as what behavior, when ... and exactly to make diagnosis easier. To gather information, a doctor can use questionnaires.
A child is diagnosed with ODD when:
Angry, stubborn, or hostile behaviors last for at least 6 months.
These behaviors often appear, not take a long time.
Occurrence more than other babies. Sometimes a baby behaves like an adult rather than a child.
Serious effects on social relationships, learning and other activities.
Behavioral symptoms are related to a person's discomfort (in home, school or society).
What other illnesses can a baby have when suffering from a challenge of opposition?
Children with ODD are also prone to diseases such as attention deficit hyperactivity disorder (ADHD), anxiety, and depression . In particular, ADHD is a disease that often accompanies ODD.
Treatment of counter-defiant disorder
To treat ODD, children need psychotherapy and cooperation between parents and children is required. It is not necessary to give medication to a child unless he or she has neurological problems. Additionally, treatments for each baby are different, depending on their severity, environment, and symptoms.
Parents must participate in training programs to learn how to care for their children with ODD. This method is for people who take care of the baby such as parents, siblings, teachers ...
Teach your baby skills to solve problems. This will help your baby to change his behavior and learn how to respond positively to stressful situations.
Teach your baby social skills so she knows how to treat her friends. This helps your baby create a good relationship at school. These classes are usually held in groups in cultural centers.
If your baby is very sick or is associated with other illnesses, the doctor may give your baby medicine.
The treatments above can vary depending on your baby's age. Ideally, you should have a combination of home and school to effectively treat your baby.
Raising a child with ODD
If your baby has ODD, parenting is not easy. However, when your baby gets regular treatment, the situation gets better. Early treatment helps prevent bad behavior. Here are some tips you can apply to care for your baby:
Set non-negotiable and adhere rules. Children with ODD tend to be against the rules and want everyone around them to do what they want. Negotiating with your baby only makes the situation worse. So, set up a few non-negotiable rules and kids need to follow.
No matter what your baby does, you need to stay calm when talking to him. Peaceful talking makes children less argumentative. Also, remove controversial situations. For example, if the baby violates the rules, he will be fined. That way, your baby won't say you're not fair.
Encourage your baby's good behavior. Praise and encourage them if they can control and correct their bad behaviors.
Set an example for your baby: Parents play a very important role in forming a baby's personality and behavior. If parents behave properly, calmly and know how to handle stress, the baby will learn as well. In addition, parents should give their baby adequate food, exercise regularly and get plenty of rest.
Activities for babies with disorder challenge opposing
To change your baby's behavior, participating in activities is indispensable. However, it is not easy to persuade your child to participate, so you need to be patient.
Exercise helps children cope with their negative emotions. Practicing sports every day will help your baby control his anger.
Changing roles is also a good way. With this method, the baby will become a parent and vice versa.
Parents, give your baby time. Whenever your baby is angry or opposed, let him rest and talk back to him when he is calm.
Parents and babies work together to solve a problem. This will help your baby respect and trust you more.
Play the "inverse" game. With this game, your baby will have to do the opposite of what their parents said and every time they do it right, they will score. Then, in reverse, the baby will be the one making the request and the parents have to do it. This game helps parents and children have a more positive view of opposing behaviors and create a closer relationship with each other.