How should parents measure their childs temperature when they have a fever?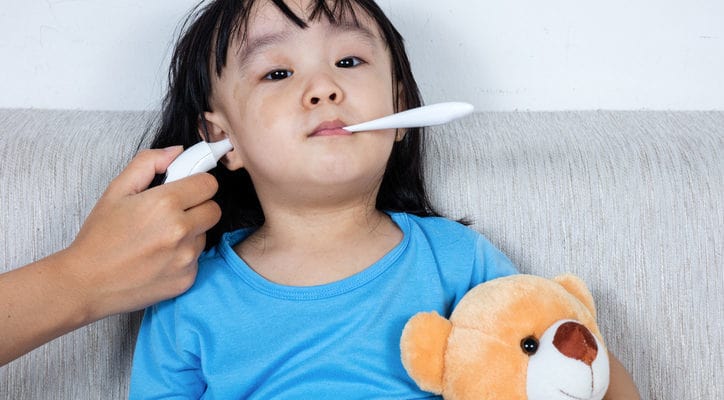 Parents often check if their baby has a fever by taking the temperature. This seems simple, but how to measure and where to measure, not all parents know. With aFamilyToday Health, learn how to measure your baby's temperature through the article below!
How to use thermometer?
Thermometer at the ear
Ear thermometers are usually fast, safe, and not annoying. The only problem is that they are a bit more complicated to use than other electronic thermometers. If you do not place a thermometer at the correct ear, it can be difficult to measure an accurate and consistent result. A baby's ear with too much wax can also lead to inaccurate temperature recording.
If this method works for you then consult with your baby's doctor so they can show you how to use an ear thermometer or practice following the instructions on the package until you get the best results. shop. When you receive the results, you should compare them with the results measured rectally. Once you find that the temperature readings are always the same, you can count on the results from an ear thermometer.
Ear thermometers should not be used on babies younger than 6 months old because the narrow ear canal makes it difficult to place the sensor in the correct position.
Oral thermometer
When your baby is 4 or 5 years old, you can take his or her temperature by mouth. Clean the thermometer with soap, warm water or alcohol. Rinse with cold water. Turn on the thermometer and place the tip of the thermometer under the child's tongue, the tip of the thermometer facing the throat.
Hold in position for about 1 minute, until you hear a "beep" sound. Check the measured temperature. For accurate reading, wait at least 15 minutes after your child has consumed a hot or cold beverage before putting the thermometer in his mouth.
When do parents need to take their baby to the doctor?
Fever is a common symptom of many medical conditions, but it's not always a bad thing. In fact, fever seems to play a major role in fighting infection. If the child is older than 6 months old and is drinking enough fluids, sleeping well and playing normally, there is usually no need for fever treatment.
If parents want to give their baby medicine to treat fever, only use acetaminophen (Paracetamol®) until the baby is 6 months old. However, for children under 3 months of age, do not give acetaminophen without prior consent from your doctor. Do not give more than recommended dose of acetaminophen to the child on the label. Note that some over-the-counter combinations may contain acetaminophen as an ingredient.
If your child is 6 months or older, ibuprofen (Advil®, Motrin®) can also be used . Read the label carefully for the correct dosage. Do not use aspirin to treat fever in people younger than 18 years old. A child is called a fever if:
Have a temperature in the rectum, ear, or temporal artery of 38 ° C or higher;
Have an oral temperature of 37.8oC or above;
Have a temperature at the armpit is 37.2oC or above.
Parents need to remember that the temperature in the armpit can be inaccurate. If you are in doubt about the temperature reading at the armpit, you can use another method to confirm the result. If:
Children younger than 3 months old and having an anal temperature of 38oC or above;
Children 3 to 6 months old and having a body temperature up to 38.9oC, accompanied by irritability, coma or discomfort, or having a temperature higher than 38.9oC;
Children 6 to 24 months old and having a temperature higher than 38.9oC last more than a day but with no other signs. If your child has other signs, such as a cold, cough or diarrhea, you may want to take your baby to the doctor sooner depending on the severity of these signs.
How to use a thermometer seems simple but in fact extremely complicated. To measure the baby's temperature accurately, parents need to note the above issues!