Build a good sleep routine for your baby from simple things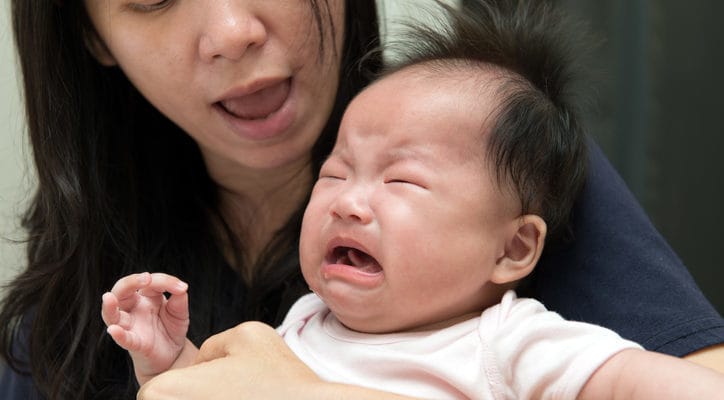 Babies often have difficulty distinguishing between day and night. Therefore, creating a habit of sleeping on time for your baby is very important during this period.
Babies wake up suddenly at night and fussy and make parents worry and often lose sleep. When your baby is a few weeks old, you can control the family's sleep by teaching your baby to sleep on time. Here are effective methods to help parents build a punctual sleeping routine for their little angel.
Use light properly
Darkness stimulates the brain to produce melatonin, a hormone essential in bringing the body to sleep. Applying this, you let your baby exposure to daylight and darkness at night so that babies quickly find the right time to sleep. During the day, parents should let the baby play in places filled with light, preferably in the sun, by letting the baby play outdoors.
To help your baby easily go to sleep, you need to prepare a dimly lit room for your baby's bedroom, reducing the light that falls into the room at night is also a way to trigger the feeling of sleep. Best to leave the room dim 2 hours before going to bed.
Sleep with your baby
The direct skin contact between parents and baby is considered an effective method in connecting love among family members. Activities such as breastfeeding , diapering and especially sleeping with your baby will also create a bond between you and your baby.
Breastfeeding mothers often find that breastfeeding makes it easier for mothers to control their baby's sleep in the beginning and especially helps mothers reduce symptoms of depression after giving birth.
Let your baby sleep when he is sleepy
This is a very special point that mothers need to know. You should put your baby to sleep when he is sleepy, not until he is asleep. This key makes it easy to manage your time for both mother and child. Babies who learn to sleep on their own are more likely to control sleep. Applying this, you should put your baby in bed when he begins to feel less fussy, quiet, and before he nods.
Wait
If you rush to your baby's side as soon as you hear the cry, parents are unintentionally teaching the baby how to wake up more often. You should wait a minute or two before running to comfort your baby. If your baby wakes up but is not crying, you should also wait a few minutes to get to your baby, just before he crawls out of bed. Sometimes before you step in, your baby will fall asleep again.
Do not look children in the eyes
Infants are often vulnerable. Looking deeply into your child's eyes can make your baby be attracted and make them misunderstand that this is a signal of playtime. Fathers and mothers often make eye contact with their babies, making them get out of sleep quickly.
If you put your baby to bed at night, don't look too deep and into his eyes for too long, don't talk too loudly or play a lively music he loves. Instead, mother helps her to sleep with gentle voice and cuddling gestures.
Diaper changing rules
Sometimes it is the diligent diligence of changing diapers when not needed that really causes babies to wake up. Instead, choose to buy a quality diaper that absorbs well throughout the night and when your baby is awake, check to see if the diaper is soiled and need to be changed to avoid waking him up.
Hopefully with the above tips, you will have more useful knowledge to build a good sleep routine for your baby.