18 life skills for children, parents need to equip them
When your baby is young, you always take good care of your baby from food, sleep to learning and playing. As the baby grows, the baby gradually moves away from your arms. Therefore, the best way you can protect your child is to equip your children with life skills from an early age.
As parents, we must all love our children very much, always want to protect and nurture them well. However, the fact is that overprotection gradually loses its effect as the child gets older. Therefore, equipping them with life skills will help them confidently enter life is what they need most now. No one else, you should be the guide for the child.
Here are 18 life skills for children that any parent should equip their children to be confident in their first years of life, preparing for a perfect maturity.
1. Cooking is a practical life skill for children
Cooking is the most practical child life skill you should teach your child. Right from the moment your baby enters elementary school, you should start teaching your baby to do each simple task first. First, you can show your child how to use the microwave to warm food, how to boil eggs, boil vegetables, followed by washing rice to cook rice, picking vegetables, washing vegetables, frying eggs, pre-processing meat, fish ...
Why do you let your baby learn to cook? The simple reason is that even though you are always interested in each child's meals, there will still be times when you are busy, tired or unable to always be at home cooking for your baby. Therefore, if the above skill is trained early, the baby will manage when there is no mother at home or the child will spontaneously go to the kitchen to help you cook.
This skill is very useful if you later live away from home, your baby will be able to control eating.
2. Knowing how to wash clothes is an essential life skill for children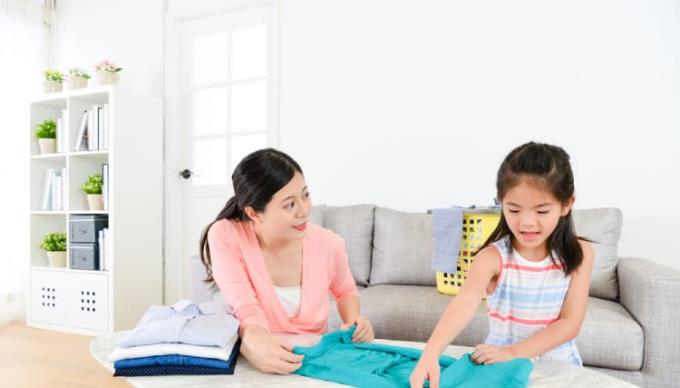 Washing is a skill that every child should learn from an early age. This skill will come in handy as your child gets older and is away from home at school.
When teaching your children to do basic laundry tasks such as washing clothes, towels, socks, and shoes ... you should carefully guide and encourage them to not feel too difficult. Please show your child how to do it step by step, carefully instruct your child to know which items can be washed together, what must be washed separately, what must be washed by hand ... You should tutor your child to do this many times to make sure. sure you know how to do it. Then, assign the laundry tasks to your child and let them do it on their own.
Maybe during the washing process, there will be a few "minor accidents" that happen like clothes are stained, washed not clean, I forgot to pour laundry detergent / softener into the washing machine ... but okay, slowly. will only master the laundry. In addition, you should also instruct your child on how to dry clothes, fold or iron clothes, how to arrange clothes in the closet ... These skills will be very helpful, they forge children the habit of being clean and tidy.
3. Let your child organize their own pairs to teach them self-responsibility
Every evening, always pack your baby to make sure they don't forget their books or school supplies. You know, one day your kids will have to grow up and go to work, you can't be the one to pack them forever. So, from now on, let your child organize his / her own. The purpose of this job is to train children the skill of taking responsibility for their own belongings.
4. Parents need to teach children life skills to first aid the wound
When your child is injured, it may be because of the anxiety and panic that you push too much. These actions are easy to understand, but what children need more is how to best handle this situation. If trained, the baby will know how to stay calm despite the blood, pain and know how to best heal the wound.
Therefore, you should prioritize teaching your children the necessary first aid . This will help children learn to protect themselves and confidently support others when they are in distress.
5. Know how to clean the bathroom is a life skill for children that should practice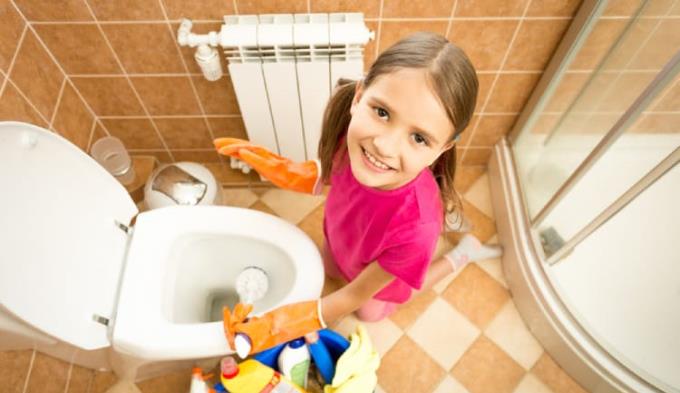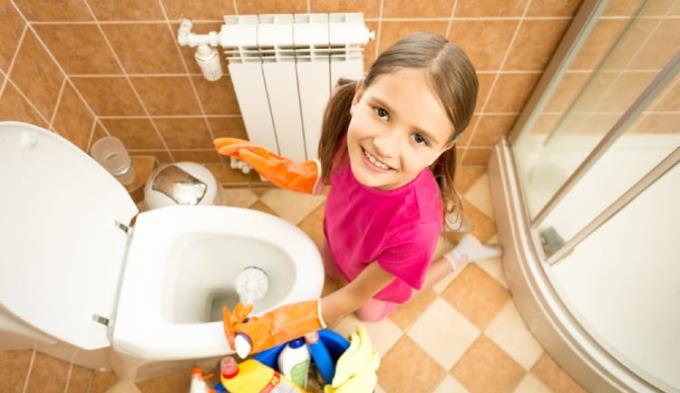 Cleaning toilets takes a lot of skills. Your child needs to learn how to clean mirrors, sinks, cosmetic shelves, lids, toilet seats, bathroom floors, drain mouths ... If your child is old enough, you can give them some The dedicated cleaning solution is non-toxic and shows your child how to clean the bathroom. Show your child some helpful tips like sprinkle baking soda on the surface to be cleaned, leave for a few minutes, spray on a little vinegar, then scrub with a toilet brush… for example.
6. Teach your child how to spend money and buy things at the grocery / supermarket by himself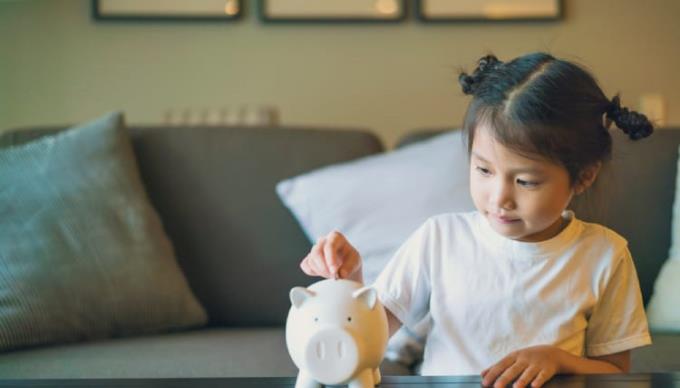 This is one of the most important life skills you should teach your child. Explain to your children about the value of money and how to save money for future use. You can teach your child the value of money by paying your child to do things such as doing laundry, washing dishes, cleaning the bathroom ... From the salary they receive, you instruct your child to calculate the amount the child can spend, the amount that the child needs to save each day, the amount that the child should set aside to help the difficult friends.
In addition, your child needs to know how to shop for groceries near the house or supermarket by himself. First, let your child learn to plan shopping by making a list of items to buy with him. Then, you take your child to the supermarket and give him the task of finding and buying the items on the list. In addition, you can also give money, a basket and a list of about 5 - 6 items to buy for your child to choose and pay for purchases. If your baby is quite young, you can give him a piece of paper with a few items and money to buy at a grocery store near you.
The above actions will help your baby get used to these useful skills.
7. Teach your child skills to plan an outing
Out of love for our children, we often have quite unreasonable fears that unknowingly cause children to feel fear in this world. You should not hang around with your child at all times. For example, when entering a shopping center, let your child go to the cinema to watch the movie by himself, buy things in their favorite children's area, choose the food they like ... Let your child do whatever they want. That does not adversely affect the health or safety of the child.
If your child is old enough and wants to go on a picnic with friends, you can send him or her. But before that, teach children how to plan a trip, learn information about where to go to know what to prepare, what necessary items to bring. Going out with friends will provide your child with useful experiences that you may not be able to teach your child.
8. Knowing how to use public transport is a useful life skill for children
This is a life skill for children essential for us to be able to go anywhere and get anything done. With a protection by frequent transportation, to everywhere of parents, children will not be able to go far from their parents' arms, that is, they will not be able to go anywhere without parents. If so, when will your child grow up?
Every time you travel, let your child experience different public transports from passenger cars, buses, trains, hydrofoils, planes ... This will help children recognize the benefits as well as the limitations of each means, at the same time giving children the opportunity to interact with many different people to help children form good communication skills.
9. Teach your children how to order food while eating out
Every time your whole family has a chance to eat out, teach your child how to choose a meal for a meal. Also, don't forget to remind your child to look the waiter's eyes, be polite, order the dishes you want and say thank you. One day, when children go out to eat with friends or boyfriends or girlfriends, they will need this skill very much.
10. Life skills: communicating with strangers
How to communicate with strangers ² is also a life skill that children need to learn. The outside world is not dangerous, but sometimes poor words will cause immeasurable harm, especially when in contact with strangers. Parents should be the ones helping their children learn this important thing.
Busy teach children to keep a safe distance from strangers, do not accept strangers until without parental consent, do not disclose all private family information (name, home address, parent's work…) to avoid trouble. Because it's not uncommon for strangers to intentionally approach a child for evil purposes.
11. Writing letters is a practical life skill for children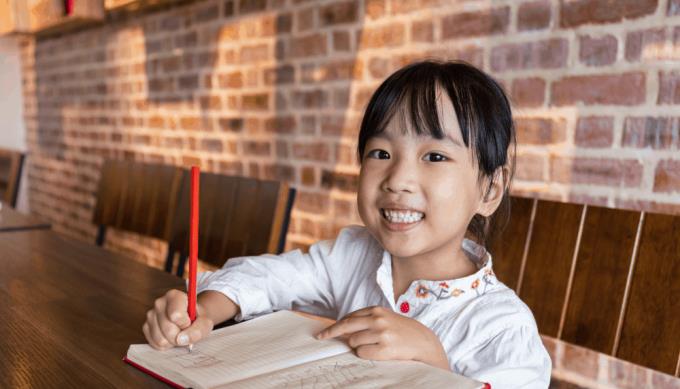 Knowing how to write a letter is an essential skill when in fact a lot of people don't really know how to present a letter. You see, even at work or in life, correspondence, including email, must meet a certain level of standards. If you learn this early, your child will be confident and excel.
Teach your children to write letters by guiding them to write a letter of inquiry to a distant friend or family member. Don't forget to encourage your child to do this often. On special occasions, buy greeting cards and encourage your child to write greetings to relatives and friends.
12. Planting and caring skills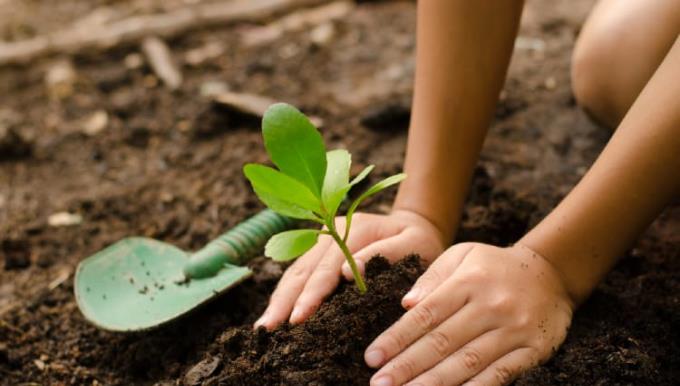 Through the fact that your child grows and takes care of the tree, you have taught your child to respect and love nature. Take advantage of a small space in the house such as a balcony or terrace, even a small space that can only fit a potted plant on your bookshelf… to serve this purpose. You tell your baby how weather affects the growth and development of plants, how to germinate, sprout and grow green ... You and your baby can also name the tree for your baby. Plant, consider the tree as a little friend and watch the plant grow with your baby.
If you have a garden, teach your children to garden, grow vegetables, grow flowers. This not only helps children relieve stress after school hours but also gives them very useful practical lessons.
13. Life skills for children: survival in the wild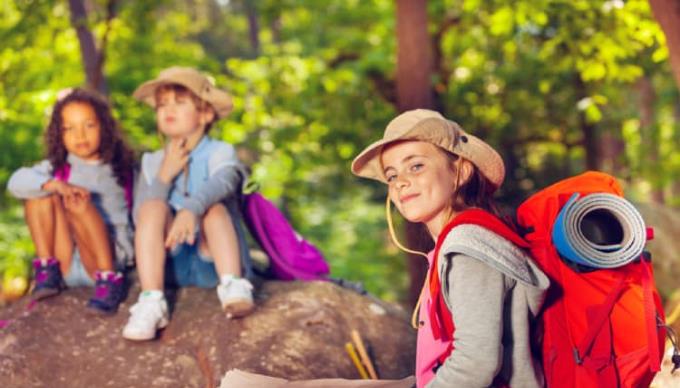 You can take your child on a picnic or participate in Scout classes. These classes will teach your child skills for survival in the wild such as how to find shelter, how to make a fire, how to move, how to signal for help ... These skills will help children be confident and independent, at the same time dare to join the adventure.
14. Swimming is a life skill that every child should learn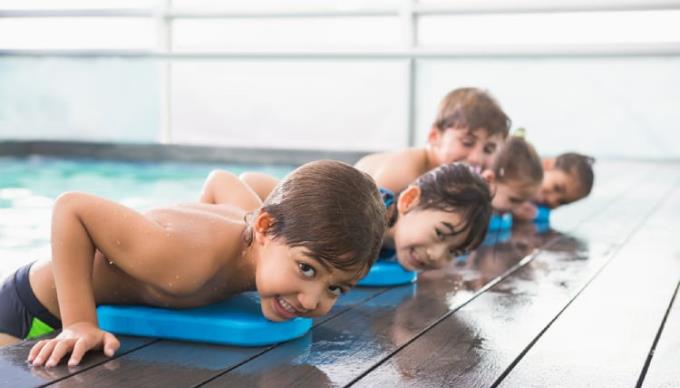 Swimming is a sport that brings many benefits to the development of children both physically and intellectually. Children learn to swim will be agile, flexible, know how to handle dangerous water-related situations that can occur and know how to protect themselves and sometimes even save lives. The swimming lessons help children live healthy, sociable with friends, increase skills and grasp learning experience from others.
Therefore, this is an essential skill that your child should learn even if your home is not in the water.
15. Teach children to repair simple objects
You find that your baby is always curious to know what is inside the TV, refrigerator, washing machine, cell phone ... Encourage your child to learn about it. You can teach your child how to assemble a bicycle chain when his baby's bike is off the chain, how to fix the faucet, change the light bulb, turn off the gas stove, the electric stove ... However, before that, you have to teach your child safety rules when repair electrical equipment.
If your child's bag loses its handle, teach your child how to re-sew the handle instead of buying a new one. In addition, you can teach your child how to button his shirt, button his pants if his clothes are accidentally broken, kicking the thread.
16. Teach your children time management skills
From a very young age, teach your baby time management skills. Teach children to dress themselves, organize play and study time by themselves, set an alarm clock to wake up early to go to school, and voluntarily do homework in a set time each day. As they get older, they will learn how to arrange time for themselves.
17. Self-defense skills are a life skill for your child that your child should learn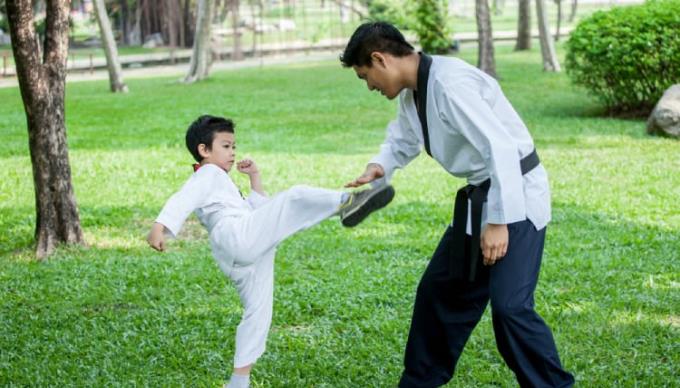 You don't always have to be around to protect your children from dangerous situations. So let your child take a self-defense martial arts class to protect themselves, such as karate, aikido, traditional martial arts ... These classes not only help children protect themselves when in danger, but also very useful for physical development.
18. Skills to use positioning equipment
If you ever get lost, even lost with GPS directions on navigation applications, you will know why being able to read maps is essential. Teach your child how to read maps to improve his orientation skills.
Being a child's parent and teacher is not easy at all. You may not be with your children all the time, but they always need the "guidance" from their parents - with practical life skills forged. It is never too early or late to equip your child with these things, so let's get started immediately on imparting life skills to your child, friends!