Choose to buy supplies for your baby to breastfeed
Preparing for breastfeeding the first time can be very overwhelming for a new mother. Let MarryBaby check the list of essential items to take good care of your little angel.
Recommended items
Breast pumps and bottles: Self-expressing milk helps ensure babies always have "food" when the mother is not present when the baby is hungry, moreover, the father can also take advantage of the mother to feed the baby late when needed.
Disposable Freezer Bags You will need multiple freezer bags to store milk (you can generally keep the curds for up to 6 months).
Breastfeeding bras (3-5) Not only are they essential to breast-feeding, they are also quite comfortable, powerful and supportive and make it easier for the baby to breastfeed.
Breast cushions (2-4 pairs of washable,
1 disposable box, or 1 set made of silicone) Mothers might be surprised to find out how much milk you "leak" so often and as often as possible. how. Avoid these "embarrassing" situations and keep your breasts clean with breast pads.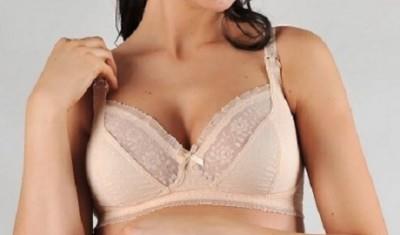 Choosing the right bras will make it easier for your baby to breastfeed
Essential items
Bottle and pacifier cleaning brush Whether you use an autoclave or a dishwasher to clean a nursing device, you still need a brush to clean difficult-to-wash areas of tools.
To prevent your sink accessories from being lost, you will need a basket to keep pacifiers and other small items safe.
Napkins (5-7) Very convenient, from keeping the baby warm to the use of "catching up" when the baby eats up milk, and making baby towels or napkins when feeding the baby to facilitate cleaning up the "battlefield" . Napkins are a useful "accessory" that you should not ignore in the list of baby tools.
Bibs Protect mom's clothes and wipe baby's chin when her angel eats milk.
Breast creams You may experience sore or cracked nipples. Keep the cream on your body to help your nipples heal and prevent scratches.
Breast protector This helpful product helps to protect sensitive breasts by preventing the skin from coming into contact with irritating clothes.
Ice packs: When mothers feel pain, engorgement or have mastitis, these ice packs will be of great help. They are designed to be held snugly around the breast and can even be discreetly tucked away in a mom's nursing bra.
These pillows can help you and your baby feel comfortable, while also helping mothers to help with back, shoulder and neck pain when breastfeeding.
If you need to save time then this is the one to buy.
The quickest and easiest way to help your baby's bottles dry quickly.
An electric bottle sterilizer is a fast, compact and safe way to clean baby bottles.
Swivel rocking chair The gentle movement of the chair will quickly soothe both your mother and your little angel.
flexible spread