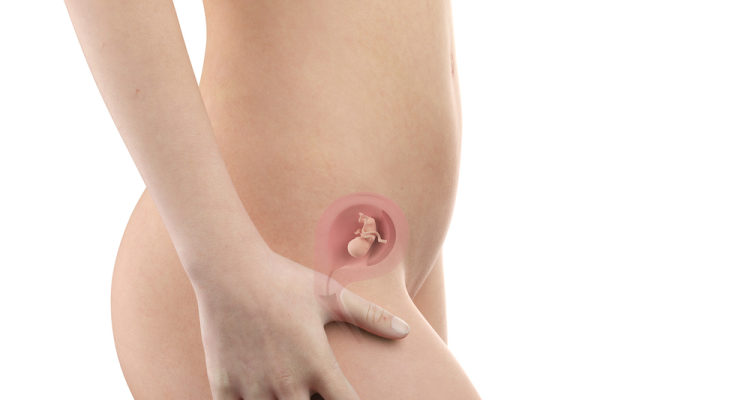 Main content:
A change in the mother's body at 11 weeks of pregnancy
Doctor's advice about 11-week pregnancy
Maternal and fetal health at 11 weeks
Development of 11 weeks fetus
How does the 11-week-old fetus develop?
An 11-week-old baby will be the size of a fig and just over 3 cm long from head to toe. To accommodate this growth, the blood vessels in the placenta are increasing both in size and in number to provide the baby with plenty of nutrients.
Your baby's face will continue to develop, mainly in the ear area and gradually reaching the final position on the sides of the head. If you see the picture of your baby now, you would think you have a genius baby because the baby's head is about half the length of his body. Although your baby's reproductive organs are growing rapidly, your baby's external genitals won't show up until the end of the 11th week of pregnancy and they'll be clearly distinguished by the time your baby is 14 weeks old.
A change in the mother's body at 11 weeks of pregnancy
11 weeks pregnant, how does mother's body change?
You should now feel a little bit of energy back and your nausea symptoms may begin to subside. Unfortunately, moms can also experience constipation due to hormones that slow down digestion and possibly heartburn from the hormone that relaxes the valves between her stomach and esophagus. Remember that all these annoyances are for your own newborn baby.
When you are 11 weeks pregnant, don't worry if nausea keeps you from eating a variety of healthy foods or if you haven't gained much weight yet (most women only gain 1–2.5 kg during the first 3 months. pregnancy ). The mother's appetite will probably return soon and from then on she will start to gain 0.5kg per week.
What are the things you need to pay attention to?
Do you not have the same problems with constipation like other pregnant women and it seems like your body is working as it should? That could be the result of exercise before or after the start of pregnancy. Regular exercise along with a diet of high-fiber foods and drinking lots of water will overcome indigestion in 11th week pregnancy and reduce the risk of constipation. Initially, the mother may not be familiar with the above diet, the speed of digestion of the mother's body may decrease compared to before (she may have flatulence). But soon you will adapt so you shouldn't worry too much.
Doctor's advice about 11-week pregnancy
What should mom discuss with the doctor?
In the coming weeks, your doctor will likely prescribe your mother an ultrasound. I will be very touched because this is the first time I see my baby and observe firsthand the formation and development of the fetus . Depending on the test results ordered by your doctor, you can do an ultrasound anytime between 11 weeks and 20 weeks. When you have an ultrasound around 20 weeks, you will probably know the sex of little.
What tests do you need to know?
During the first 3 months, between 11 and 12 weeks, the mother can perform a placenta test. This is a test to analyze and identify chromosomal abnormalities or genetic disorders in the fetus by taking a biopsy sample from the placenta. You should do this test in reputable hospitals and clinics near where you live.
Maternal and fetal health at 11 weeks
What do you need to know to ensure safety during pregnancy?
1. Abdominal cramping
During the 11-week-old fetus period, after having sex, the mother may experience abdominal cramping, but don't worry. Abdominal cramping, sometimes with lower back pain, is common and not harmful during pregnancy. If the mother has abdominal cramps, it is caused by the increase in blood flow to the pelvic areas, which relaxes the genitals during sex, followed by contractions of the uterus after sex. system. In addition, it is the psychological fear of hurting the baby during sex. There is a case that it could also be a combination of the two.
2. Aspirin
You should not take aspirin while you're 11 weeks old. Your doctor may advise taking aspirin to reduce the risk of complications. But you should not take aspirin by yourself without consulting your doctor.